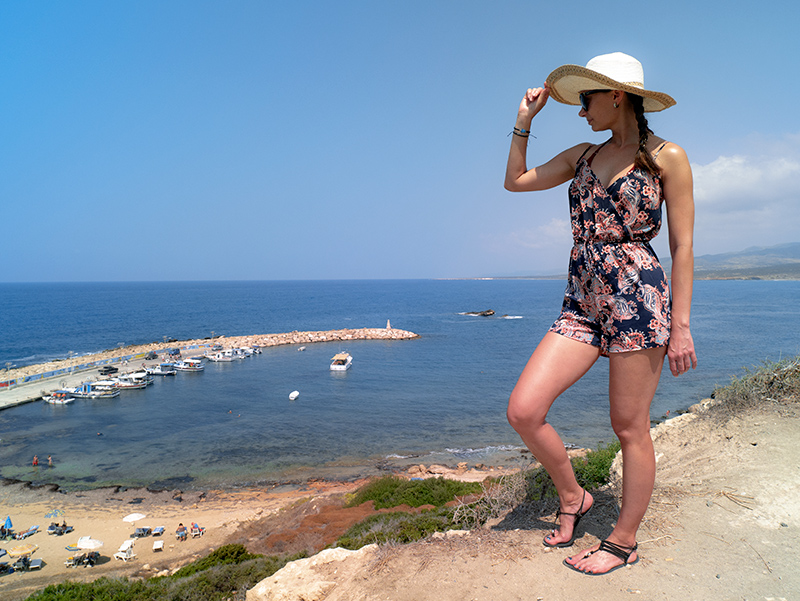 It was the most unexpected, exhausting but the very best trip during our stay at Paphos, Cyprus. We did not expect any long hiking so packed just with swimsuit, beach umbrella, snorkel, a little water and no food (relying on local refreshment sources) we changed our bus from Paphos centre to a microbus at Coral Bay and could not wait snorkeling at the famous Sea Caves. We thought Sea Caves is a specific place with a beach where you can go underwater in the cliff caves. Only later we realized that sea caves are everywhere in this locality.
Our driver replied "OK" to all our questions and the digital board in the bus was showing only the word "Stop" in English and Greek before every stop and thus missing all informative purpose it is usually used for. All our co-passengers got off at the previous stops and as the driver calls "Final stop" we realized that we arrived farther than we wished. No regrets, cause we found ourselves at most picturesque place. Situated high on the rock cliffs, guarded by a romantic chapel, enjoying the fresh sea winds and providing breathtaking views at  sea caves and a little port, there is Agios Georgios that left us starring and shooting photos like crazy fascinated by the sudden experience.
We decided to walk by the sea coast to be able to watch the beauty. Soon we realized that this day was not predestined for our Sea Caves snorkeling even though the caves were everywhere we looked. The sea around Cyprus is rather wavy and rarely calm. The island bears the name after Aphrodite Godess and the Greek word Afros means sea foam. And so we were silently admiring the huge waves while hiking and holding our beach umbrella over our heads happy for the fact we took it with… even though its initial purpose is different, obviously. Neither the rocky paths nor the climate were made for hiking here. As to the weather I already described some facts in my post Paphos, Cyprus: Bikini On. After an hour walk we got tired, quite hungry and thirsty too so we tried to leave the shore and find some amenities.
Not long ago but too long after our Cyprus travels I studied more about the character of St. Georgios area. In one of the local resorts review there was this phrase "far from the crowds" and I laughed hard remembering our trip. Not even the reviewer knew how so much literally this comparison works if you do not happen to be a guest of the luxury resorts.
We felt superheated and super not ready for a hiking tour in 40 degrees. No chance to cross the private lands at the back of villas or resorts so we accidentaly appeared on a private hotel beach. Though not satisfying our hunger, we had a swim and cooled down. Then we decided to ask the hotel staff for help. To our inquiry for a nearby market a young beach barman replied that he is not sure there are any shops in this area. Surprised enough we then asked how to escape from the resort to a street. Anytime we now remember his answer, we are sorry for the boy. He probably spent all his working holiday without stepping out of the hotel resort, because his reply was: "I don't know."
Fortunately, there was local staff too who helped us then. This time we found ourselves on a road which seemed to be used mainly for a building site purposes. Yes, we were there, crossing a building site still holding our beach umbrella over our heads, workers staring at us in astonishment. Superheated brains, super hungry. Our next stop… a banana field. A banana is good hunger satisfaction you might say. But I have never seen such a green banana like this. Later on we commited to desperately tasting Carob from a tree at someone's holiday house. Right before I would faint of hunger we arrived at a garden suburb welcoming us with a sign saying Sea Caves Restaurant.
See, people eat here, thanks God. Feeling like reborn we enjoyed delicious meal and refreshing Keo beer at the amazing Sea Caves Lounge Bar Café & Restaurant. Don't miss this magical place, it's sooo worth visiting! We were ready for more adventure so we asked for directions to the famous ship wreck and continued the shore path.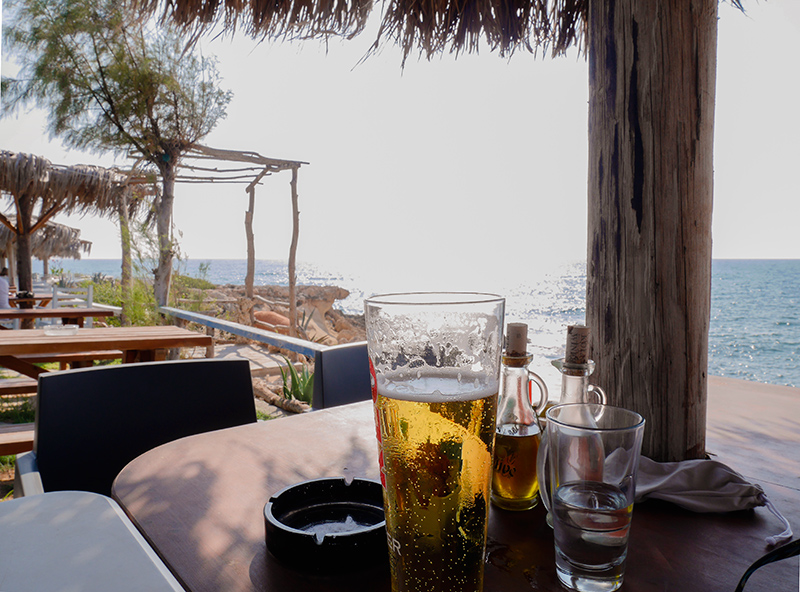 The Cypriots must be very good runners. The way which takes an hour to a Cyprian waiter, took us two hours. But we enjoyed every second and before seeing the ship wreck we had also found this wrecked sofa. So romantic!
Again no people on our way sooner than we reached the ship wreck. The sun was going down already and the scenes invited to shoot and film like crazy. Picking the best out of the million pictures was not easy job later at home.
Only one wild cat appearing among the rocks greeted us on our last hour walk back to Coral Bay.
Like a pair of wanderers we arrived at the Coral Bay beach in the need to wash off the sand of all existing sand colors from our feet. A few minutes later we just gave up all efforts to turn back into a civilian look after reading the sign above the beach water tap saying "Charched water tap service till 8 pm", we got on the bus taking us to our amazing 100 m2 apartment Lighthouse Getaway Apartments at the Paphos Lighthouse. We could not miss our stop, luckily.