I've been planning to show you this little helper for some time already because I think there are still ones of you who do not know what a perfume travel atomizer is and how useful job it does. I guess we all have our favorite perfume, or some might have more and like to change them according to the mood. Either ways, to carry a perfume bottle, even the smallest size of 30 ml (1 oz), adds a considerable weight to our handbags.
Travalo atomizer is a refillable perfume sprayer which was made to solve this problem and enables you to have a 5ml (0.17 oz) amount of your fragrance with anywhere you go. You simply fill in the Travalo atomizer with your perfume! After my first experience with the Travalo perfume sprayer, I've made this product a gift for my family and friends and they all were excited about this amazing gadget. Check out my pics below where I demonstrate how to use the Travalo perfume travel atomizer and you can pick yours from a wide range of colors and designs.

1. Take the sprayer top off your perfume bottle. I am using Chloé L'Eau de Chloé, my fave spring perfume – read the L'Eau de Chloé review. 
2. Attach the bottom of the atomizer on the perfume nozzle peg and start pressing down until your Travalo atomizer fills up with perfume.
3. You can pick a transparent Travalo Ice atomizer like me to be able to check the remaining amount of perfume or some Travalo atomizers have a little window in which you can check it. 
Do not worry about dropping the perfume liquid! Travalo atomizers can be filled up precisely without losing a drop of your perfume. As its name suggests, you can easily travel with the refillable Travalo atomizer. It is allowed to be taken on board. When going for a holiday, you do not need to decide which one of your perfumes will join you. Fill up more Travalo atomizers with different perfumes and your dilemma is solved. And it takes minimal space in your luggage! So where are you taking your Travalo this summer?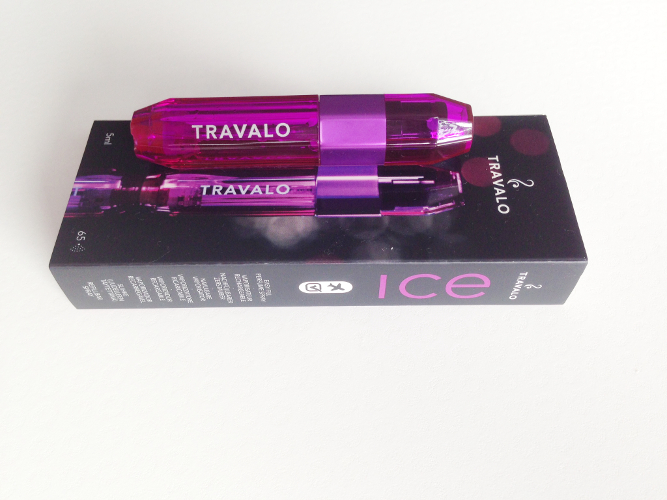 [adrotate banner="37″]