PHOTO: Pavlína Muzikářová
STYLING, MODEL: Kate Ziegler – Chic Cocktail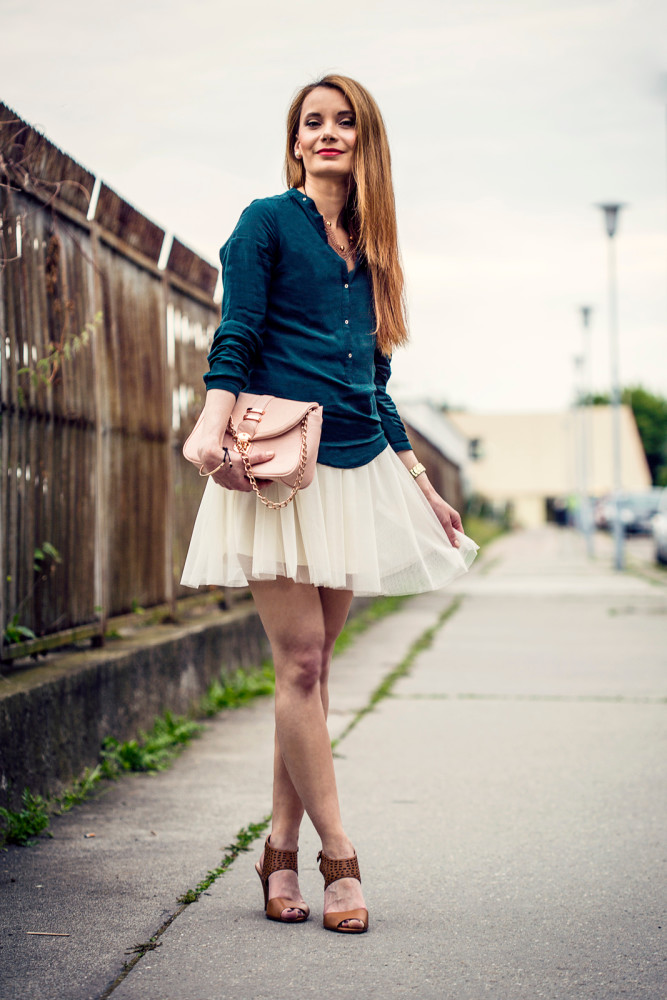 Zara blouse/halenka – Sales, H&M tulle dress/tylové šaty – old, Bulaggi purse/kabelka, Promod necklace/náhrdelník, Earrings – vintage, PRIMARK bracelet/náramek, Deichmann sandals/sandály
Hi my dear fashionistas! What do you think about this outfit? Have you noticed anything peculiar? You might say there is something about the blouse! Looks like needs ironing! You are perfectly right! But I bet I'm not the only one who manages to buy such a piece made of so 'wrinkle-resistant' fabric. Yes, I call myself a stylist, an expert regarding clothes. I'm able to help you find your style, provide advice on how to dress up to compliment your figure and get the best results for any occasion. I can tell you which pieces are worth investment and which ones you better avoid. I am able to organize your closet and show you how to combine your pieces into new attractive outfits, how to make the most out of nothing regarding clothes. But I am neither textile expert, nor dress maker and not even a fashion designer. So next time we'll be shopping together and I'll be telling you: 'This blouse looks like wrinkle-resistant and will stay perfectly neat all day long', please never trust me! Otherwise you probably end up crumpled like me in the photos after wearing the blouse to work! One big LOL!
Btw. The shoes were the cheapest item and love at first sight because I love ankle boots or anything about the ankles on shoes. I got them in Deichmann sales.
 [adrotate banner="37″]
…………………………………………………………………………………………………………………………………………………………………………………
Přeji vám krásný přímo horoucí víkend! Co říkáte na můj outfit? Něco se vám nezdá? Ta halenka je nějaká podivná, co říkáte? Vypadá dost nevyžehleně! No, máte pravdu! Ale vsadím se, že nejsem jediná, komu se podaří si takovou "nemačkavou" halenku pořídit. Ano, jsem stylistka a měla bych se v oblečení vyznat. Já vás obleču stylově, poradím vám, co vám bude nejvíc slušet a čeho se zbavit, do čeho investovat a co nikdy nekupovat, pomohu vám protřídit šatník a nakombinovat tak, aby jste viděli, že i z mála lze udělat hodně. Ale nemám oděvní školu, nejsem švadlena ani návrhář. Takže, prosím vás, nikdy mi nevěřte, až spolu budeme nakupovat a já vám budu vykládat, že ta halenka má supr nemačkavý materiál a bude celý den v práci vypadat upraveně. Protože pak zcela pravděpodobně dopadnete přesně tak jako já na fotkách! Jedno velké LOL!

PS: Ty boty jsou nejlevnější položka. Byly láska na první pohled a jestli jste to ještě nepoznali, prozradím, že mám slabost na kotníčkovou obuv či cokoli, co má nějaké zdobení kolem kotníku. Jsou ze slev z Deichmanna za babku a musela jsem vám je ukázat.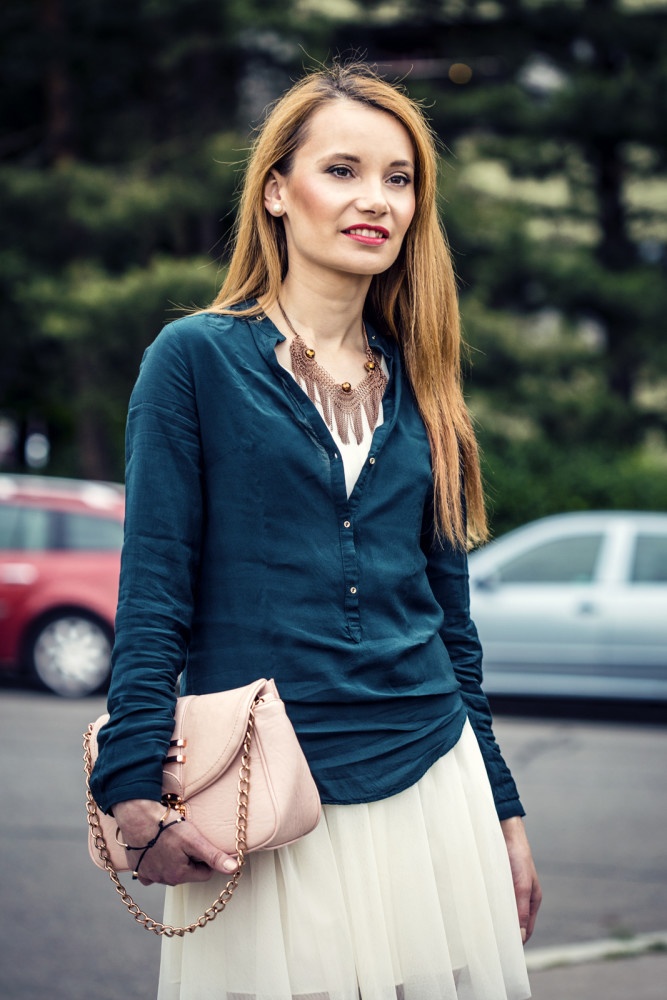 Zara blouse/halenka – Sales, H&M tulle dress/tylové šaty – old, Bulaggi purse/kabelka, Promod necklace/náhrdelník, Earrings – vintage
Zara blouse/halenka – Sales, H&M tulle dress/tylové šaty – old, Bulaggi purse/kabelka, Promod necklace/náhrdelník, Earrings – vintage, PRIMARK bracelet/náramek
Zara blouse/halenka – Sales, Promod necklace/náhrdelník, Earrings – vintage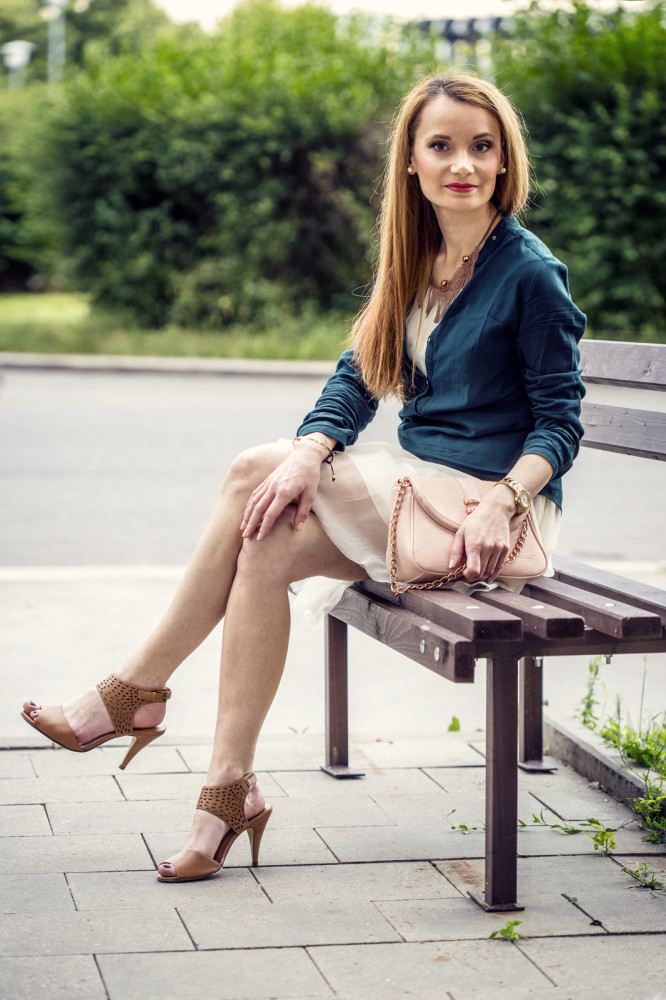 Zara blouse/halenka – Sales, H&M tulle dress/tylové šaty – old, Bulaggi purse/kabelka, Promod necklace/náhrdelník, Earrings – vintage, PRIMARK bracelet/náramek, Deichmann sandals/sandály

Get the Chic Look
[wonderplugin_carousel id="9″]